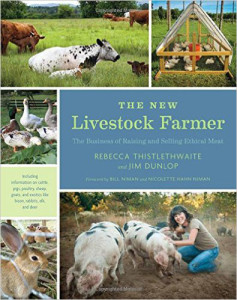 Rebbeca Thistlethwaite and her co-author and husband Jim Dunlop wrote the book The New Livestock Farmer: The Business of Raising and Selling Ethical Meats and the author of Farms of the Future. Between them, they have a diverse livestock, orchard, and vegetable farming history. Their pastured poultry production includes layers (flocks as large as 5,000), broilers (up to 10,000 a year), a few hundred turkeys.
We cover:
The challenges of marketing underground broilers.
The marketing reality of Broad Breasted and heritage turkeys.
How writing the book helped Rebecca and Jim decide the future of their commercial farming ventures.
What is an ethical meat?
The three questions you can ask yourself to be more like a hedgehog.
Principled marketing and the 80/20 rule to the lifetime value of a customer.
Should your customer pay increasingly higher prices for your inefficiencies?
Links to Resources:
*Amazon affiliate link