Do you have your own podcast? Are you looking for guests? The number one way to get guests on your show is  to ask.
Potential conversations:
Why is pastured poultry different?
Poultry politics surrounding third-party certifications and conventional, fear-driven mindsets.
The business of pastured poultry.
Processing poultry on-farm, including sizing and selecting equipment and all things related.
Writing, editing, and publishing.
Conference Speaker. I also have a collection of conference talks that make great discussions. You can check them out on the event speaker request page.
Technology Author. And as a fun fact that you might not know, but that contributes to the intrigue, I've authored four computer technology books with Packt Publishing (2 on Scratch and 2 on Zenoss Core). You can view them on Amazon.
Podcast Appearances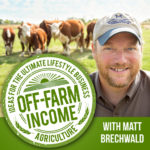 Off-Farm Income with Matt Brechwald
OFI 294: How To Run A Mobile Chicken Processing Business And More | Mike Badger | Badger's Millside Farm