https://html5-player.libsyn.com/embed/episode/id/4319432/height/100/width/480/theme/standard-mini/autoplay/no/autonext/no/thumbnail/yes/preload/no/no_addthis/no/direction/forward/"]
Talk about this episode on Facebook.
Mike Marchand of Whitehurst Farms joins the show to talk about his rapidly growing career as a pastured poultry farmer in the Houston, Texas area. He sold his successful non-farming business and starting raising poultry in 2014. Today, he manages a laying flock of 1700 pastured hens in addition to broilers, turkeys, and pigs.
Mike shares two important takeaways from his first business that he applies to his farm. And he also candidly suggests that "you better get some friends."
Mike details the growth of his laying operation, including housing, breeds, challenges of ready to lay pullets, and disease management. He outlines how he suffered a large drop-off in egg production and how he leveraged his relationships to make it through the production drops.
To learn more about Whitehurst Farms, visit their Facebook page or visit them online.
Show Sponsor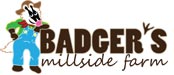 This episode of Pastured Poultry Talk is brought to you by Badger's Millside Farm. When you need quality, American made, affordable poultry processing equipment for your on-farm slaughter, consult with Pastured Poultry Talk host Mike Badger. He's a Poultry  Man and Featherman dealer.