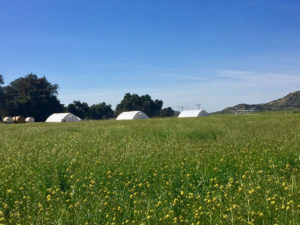 Paul Greive from Pasturebird joins the show. Paul is a partner in a southern California farm that started just five years ago from 50 chicks. And they're rising quickly. A $2000 investment among 4 guys started as an experiment. There came a point when the farm venture didn't have enough cash to buy zip ties. With those early years behind them, Pasturebird is one of the largest pastured poultry farms in the United States. They're working toward 6,000 a week, and they do it all in a daily move system using mobile range coops.
My take from the interview with Paul is focus. You'll hear that word pop up in our conversation in different ways.  Focus on the message, focus being the best, focus on a product, focus on the numbers.
The farm grows broilers, but if you listen to Paul, you'll hear takeaways that you can apply to your egg, turkey, or other farm business. We also cover some ground on certifications and predators. How did a startup pastured poultry farm deal with predators. Paul's conclusion provided a pivot point to profitability.
Sponsor

Manufacturers of fully automated solar-powered supplemental lighting systems for mobile pastured poultry and family laying hen flocks.