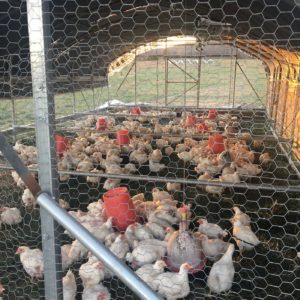 When people look into a farmer's world, it often looks like a fairy tale life, and in many respects, that's true. In this episode of The Fighting Farmer podcast, we cover some of the things that challenge the wonderful life.
Topics in this show:
Pushing the production season, and it's getting cold in the holler.
The Ozark Natural Foods market is open on Saturdays.
Hiring market workers for the first time.
Quality of farm life is a work in progress.
Fresh duck almost there.
The APPPA pastured poultry conference is approaching in Fayetteville, Arkansas.
Slaughtered 900 birds in the plant, a new high.
Hectic schedules, Carla away, kids need to play basketball. Is it a fairy tale life?
Ordered a mobile range coop for spring.
Chicken topic: ascites in the cold weather.
Contact Spence through Facebook.