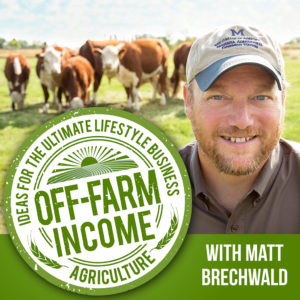 Matt Brechwald publishes the Off Farm Income podcast and farms in  Kuna, Idaho. Like many people, Matt had a "good job" with good pay, good benefits, time off, and reliability. And like many people he was not satisfied. Before he knew it, he spent 15 years as a police officer, and his dream of farming was nowhere in sight.
That's when he took action that let him build a business on the side, get a farm, start podcast, and get farming. That's a path easier said than done, and in this episode I talk to Matt about:
How podcasting fits into the farm business? The podcast formed to help people escape the 40-hour-a-week job. It spawned its own business opportunities.
How he concentrated on supporting the farm through entrepreneurship; the farm is profitable, but the household still needs additional income.
Fear held him back from his entrepreneurial goal.
Getting rid of debt. While working, he was self-medicating with stuff. So, it's time to get serious about the lifestyle you choose.
Debt forces you to keep the job and turns the farm lifestyle into an obligation. Consumer debt will control you.
Some of your friends will be threatened when you leave your job, and they have to tell you why you're wrong.
Matt's favorite business ideas from his podcast: #77 on a portable sawmill and  #291 about an excavation and construction business.
Favorite Book: Do the work.
Favorite Resource: 48 days podcast by Dan Miller.
Personal Habit: Take a lot of notes on ideas and goals in a place that's easily accessible.
Best advice: Don't sell what you catch. Sell what you know.
Contact Matt. offincome.com.